TO ORDER PLEASE VISIT THE ORDERING PAGE BY CLICKING HERE


COIL PICK-UP'S
FOR ELECTROMAGNETIC RECORDING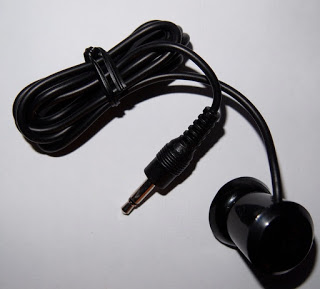 £15 / £18 (UK)
£18 / £20 (rest of world)
prices include standard p&p
(upgraded postage is available)
*postage upgrades to first class, special delivery (UK) or fully tracked (EU / Rest of World) are also available


supplied with pre-mounted 1m cable and with 3.5mm or 1/4* inch jack



for picking up electronic signals / sounds ie. the internal sounds of a laptop, lightbulbs, recorders, household gadgets etc etc.
A fascinating and rewarding method used by myself in performance, installation and on several releases, also used by sound artists and field recordists around the world.
you can hear some of the sounds these can pick up on an exclusive MP3 track I created for THE WIRE magazine by clicking here. On this piece you will hear field recordings of the general wire office ambience along with the inner sounds of their computer systems, alarm boxes and light fittings.
Whilst some other coils on the open market have certain limitations placed upon them, these adapted coils can detect a wider range of sounds that the technology is capable of.
They come pre-fitted with a 3.5mm jack plug and can be used with decent 3.5mm to 1/4 inch or XLR adaptors.
PLEASE NOTE: I only adapt these coils - hence the price. Depending on which country you're in it might be possible for you to find coils that don't have the limiters on sale elsewhere.