It is, always, a privilege to put together the yearly murmuration trips & create an open, inquisitive and enjoyable space for each new community of listeners. The 2023 trip was quite something...

here are some photos & comments from participants;


"A week of listening and sharing ideas around recording and performing with sounds from the field. With such an amazing bunch of people from around the world...Thank you so much to Jez and Pheobe for creating space for connecting through listening, sensing and sharing ideas. I'm so grateful for your generosity ~ it spreads and inspires and I think I speak for everyone who participated when I say that this week gave a giant boost both in knowledge and excitement of working with sound"

"By far the best workshop I've been to. The atmosphere created by Jez & Pheobe was special. Thank you:

"Feeling overwhelmed after an amazing week of field recording in the Scottish Highlands participating in #murmuration4, beautifully hosted by Jez riley French and Pheobe riley Law"

"Amazing week...massive thanks to Pheobe and Jez, sharing their knowledge and experience of listening and recording...and big thanks to everyone involved and physically present who made time in their life to come along and share this tremulously rich, lush and fun experience!"

"MERCI Jez and Phoebe for organising it so well, and inviting these very unique guests. New ways of listening, recording, creating and sharing"

"thanks for the amazing week. Its been an incredible experience, and i've never felt so heard and understood while learning about sound"

"Thank you Jez, Pheobe and all for an amazing week. I learned so much and did so in incredible company"

"Thank you so much for a super inspiring week! Its been so healing to be together with such warm, funny and loving people!"

"Feeling so full of joy after the most wonderful week with a bunch of very special people. Thank you so much Jez and Pheobe for all of your hard work and for bringing us together and thank you for being so kind and generous with your knowledge and time"

"Thank you all for your generosity, it was such a special week"

"I don't think I've learnt so much whilst have such an enjoyable time. Mind expanding"

"So many things to say thanks for Jez. The talk on correcting sound histories and the way you expressed how your approach to listening, recording and performing with place were affecting"

"A stunning experience. My ears are opened. Thank you"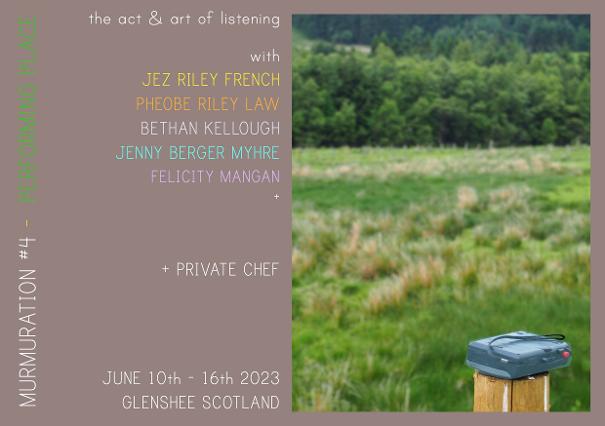 murmuration # 4 - performing place
10th - 16th June, 2023
Glenshee, Scotland


curated by

JEZ RILEY FRENCH
PHEOBE RILEY LAW
with guest artists;
JENNY BERGER MYHRE
BETHAN KELLOUGH
FELICITY MANGAN


+ performance by

CHERYL E. LEONARD


+ PRIVATE CHEF
listening, making, composing, interacting - a week exploring the possibilities of located sound, with multiple guest artists
TO BOOK A PLACE EMAIL HERE
or use the contact form on this website
(NB; as of January 12th 2023 places on the trip are fully reserved, however do email if you would like to be on the waiting list)

The 4th in a series of unique trips curated to ensure both a sharing of diverse experience and knowledge of sound, situation and place, and an atmosphere that is relaxed, inspiring, inclusive and open. Each trip is led by artists working in their respective fields, to complement our always fascinating group of participants.
Alongside our explorations of the locale, our theme for the 2023 trip is performing place, considering how we interact with environments as material, memory and in our need for a more symbiotic understanding of our impact on them.
Our trips build communities of listeners in a flexible week together. Doing this differently, we react, individually and as a group, to the ever changing variety of the environment at the time. Each invited artist will lead a practical session, alongside talks and multiple additional discussions that develop to fit the needs of the group.
Unique gatherings of listeners in this area of stunning Scottish landscapes and diverse recording opportunities. Geographically Glenshee offers Munro's (mountains over 3000 feet), loch's, rivers and glens. The trips promise to be a rich source of inspiration, listening and recording possibilities and a chance to discuss and share knowledge around the subjects of located sound (field recording, situated listening, performing place), acoustic ecology and contemporary sound practice in its varied forms.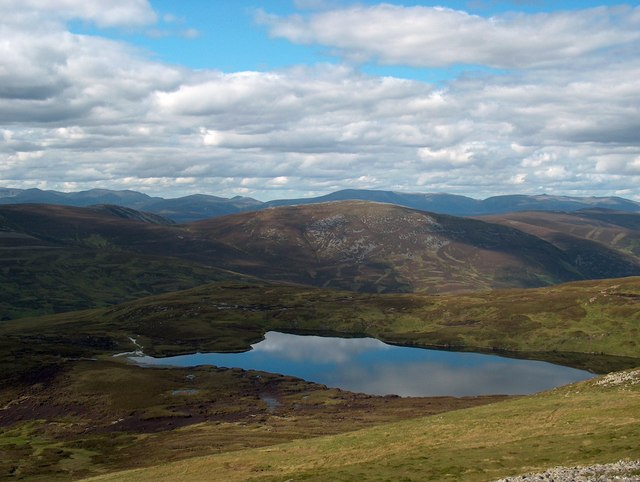 cost: £849
includes 6 nights accommodation in shared rooms, full catering by our private chef & access to all group activities, talks and practical demonstrations.


10th - 16th June, 2023
We'll have our own private chef joining us, offering high quality, fresh and exciting meals, with many of the ingredients being locally sourced.

funding: with many years experience, including Jez's activities as a curator and workshop leader, we are of course aware that the cost of trips like this can be a barrier for some and we want to do our best to ensure access for all whilst maintaining the experience, and the ability of such trips to operate outside of dwindling national funding sources for independent organisations. Individual funding applications by artists wishing to attend are encouraged and we are happy to assist with advice and letters of invitation if needed.
Aside from any other country specific or international organisations providing funding, in the UK there are;
Arts Council England (uk)
Creative Scotland (uk)
Jerwood Arts (uk)
some cross border organisations who might be able to assist include;
https://www.transartists.org/article/funding-europe
https://www.transartists.org/article/funding-worldwide



The week is intended for those with some experience of working with located sound / field recording, explorative music, sound art & other areas of experiential site-specific work as it will be in the format of a field trip / gathering rather than a series of formal, instructional steps for beginners. That said we of course welcome participants at all stages of experience and we'll be on hand throughout to offer guidance, support and deliver talks on various aspects of the act & art of listening. Each of the guest artists joining us will provide additional content (talks, playback, practical sessions etc). Full details will be announced, as usual, in stages in the coming weeks.


During the week we'll also have the opportunity to hold screenings of films with a connection to located sound and / or the theme of the trip.


Accommodation for this trip will be in Glenshee, Perthshire, Scotland, in shared rooms, which have between 2 and 6 beds. The lodge itself can sleep a total of 37 people however places available for participants are limited to below capacity. Bed linen is provided but you do need to bring your own towels. We have booked the entire site to ensure we can come & go as we please at all hours.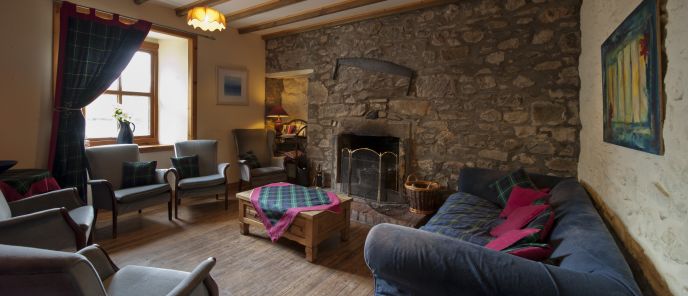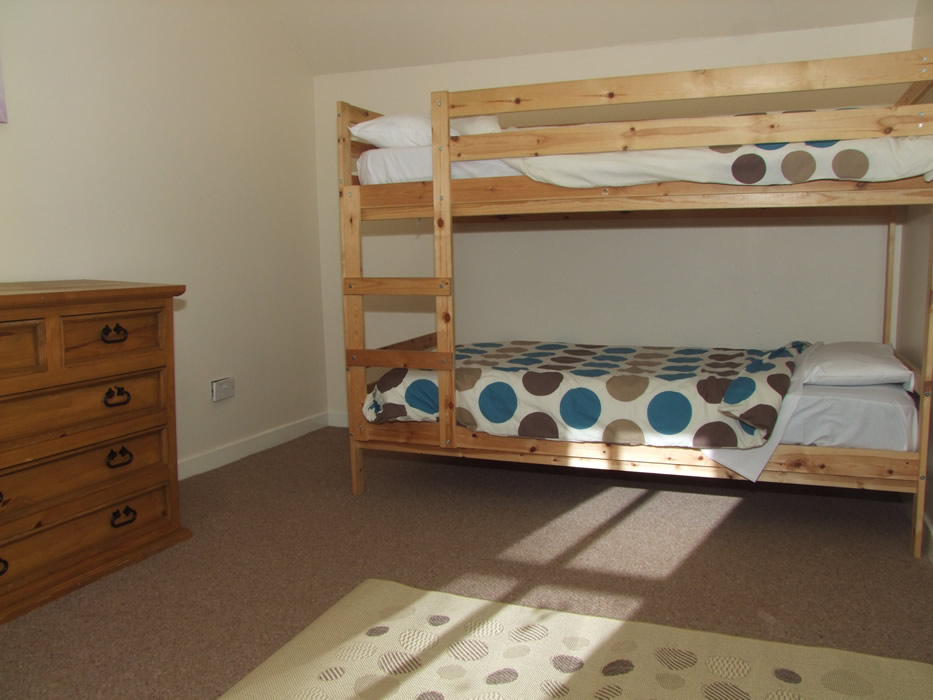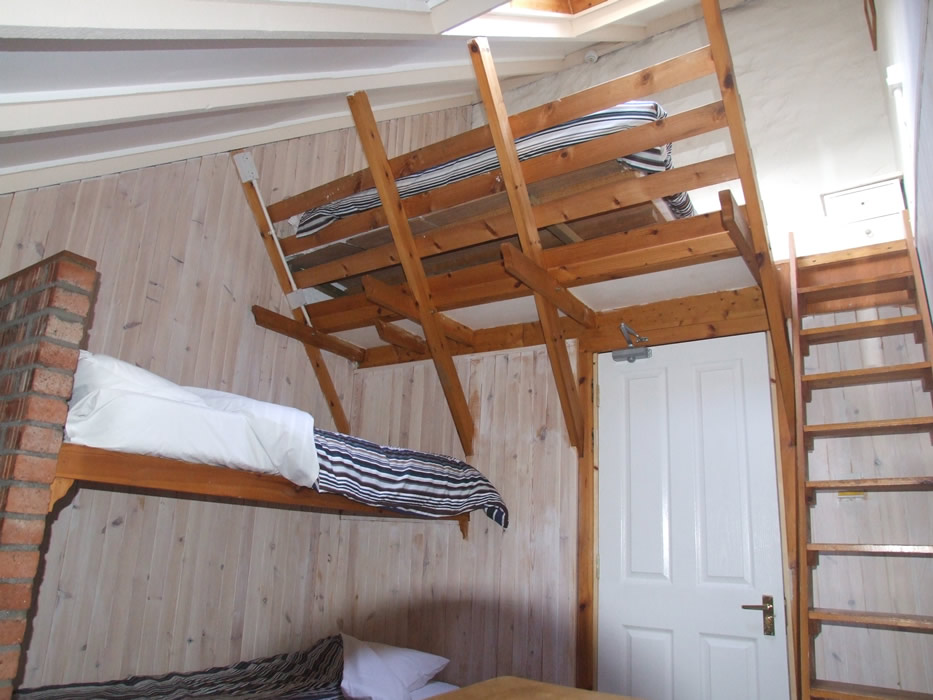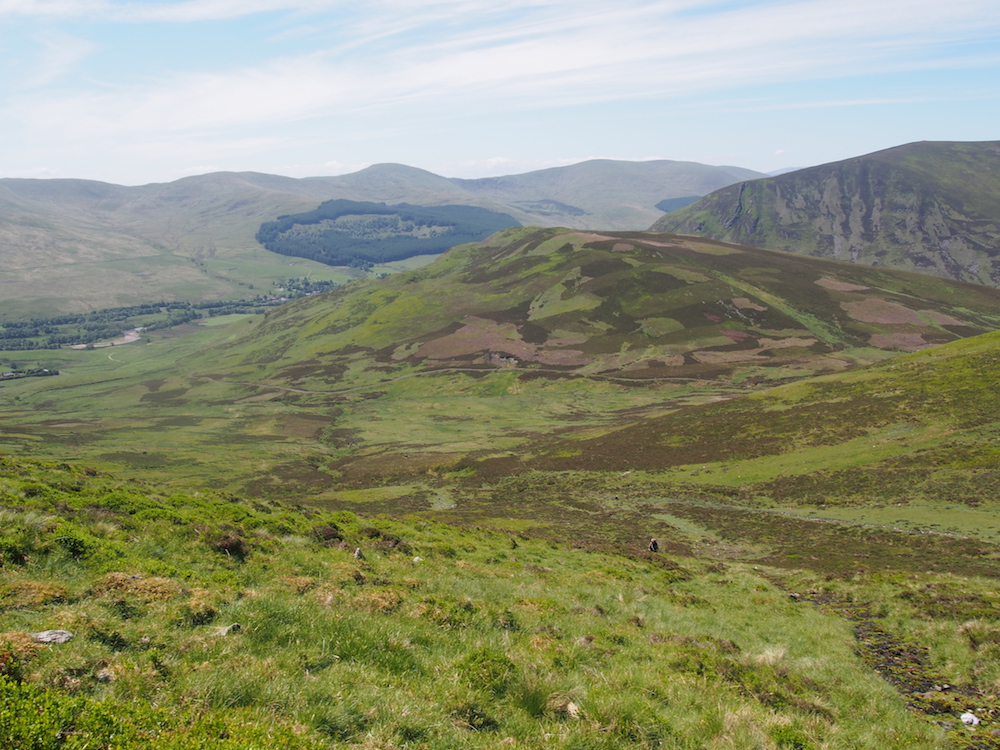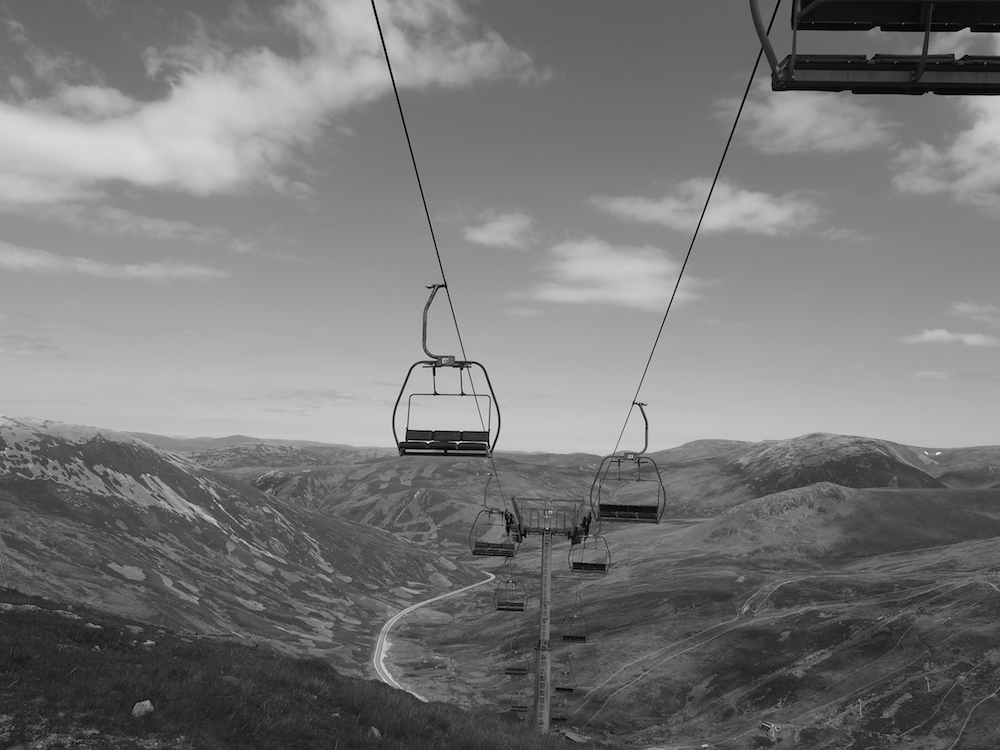 We'll have full catering; breakfast, lunch (packed as we'll no doubt be out during the day) & evening meals. Our caterers will be sourcing local ingredients and we'll be working with them in the months leading up to the trip to devise a menu that will both nourish and excite. All dietary needs will be accommodated of course.


Above all the trip will be a chance for us to gather together & spend several days listening, recording, sharing our experience and generally having a great time meeting good folks. So do join us & be part of this murmuration of listeners !


terms of booking can be found below, & do read some of the feedback from previous murmuration trips - they were indeed special .
about the artists # 1 - Jez riley French
Jez's work with extended recording techniques, and his approach to listening in general, have had a significant influence on many areas of sound culture, from film sound design to contemporary installation practice.

Alongside performances, exhibitions, talks and texts, Jez works as a curator of events, including workshops, a record label & an arts zine (verdure engraved). His range of JrF specialist microphones are widely used across all areas of sound culture.
Areas of work & research include establishing / expanding micro-listening, durational listening, and architecural, plant, soil horizon, aquatic and infrasound recording as key elements of contemporary located sound practices. Working with photographic scores & scores for listening, discussing the gendering of sound cultures and histories, and perception of environments.
His work has been exhibited alongside that of Annea Lockwood, Pauline Oliveros, Yoko Ono, Jana Winderen, Bjork, Chris Watson, Signe Liden, Ryuichi Sakamoto, Sarah Lucas, David Bowie, Alvin Lucier etc, at galleries including Tate Modern and Tate Britain, MOT - Museum of Contemporary Art, Tokyo (Japan), Paradise Air (Japan), Whitworth Gallery (Manchester), Artisphere (USA) etc.
Currently Jez is working on several major projects inc. on the design & detail of spaces between buildings in Japan and further works exploring structures resonated by compositions and their locales . He is also working with his daughter, the artist Pheobe riley Law, on a series of performative collaborations.
Key works are pieces capturing the sound of the dolomites dissolving, ants consuming fallen fruit, buildings vibrating, teleferica's interacting with locales, the infrasound of domestic spaces around the world, glaciers melting in Iceland and the tonal resonances of natural and human objects in the landscape.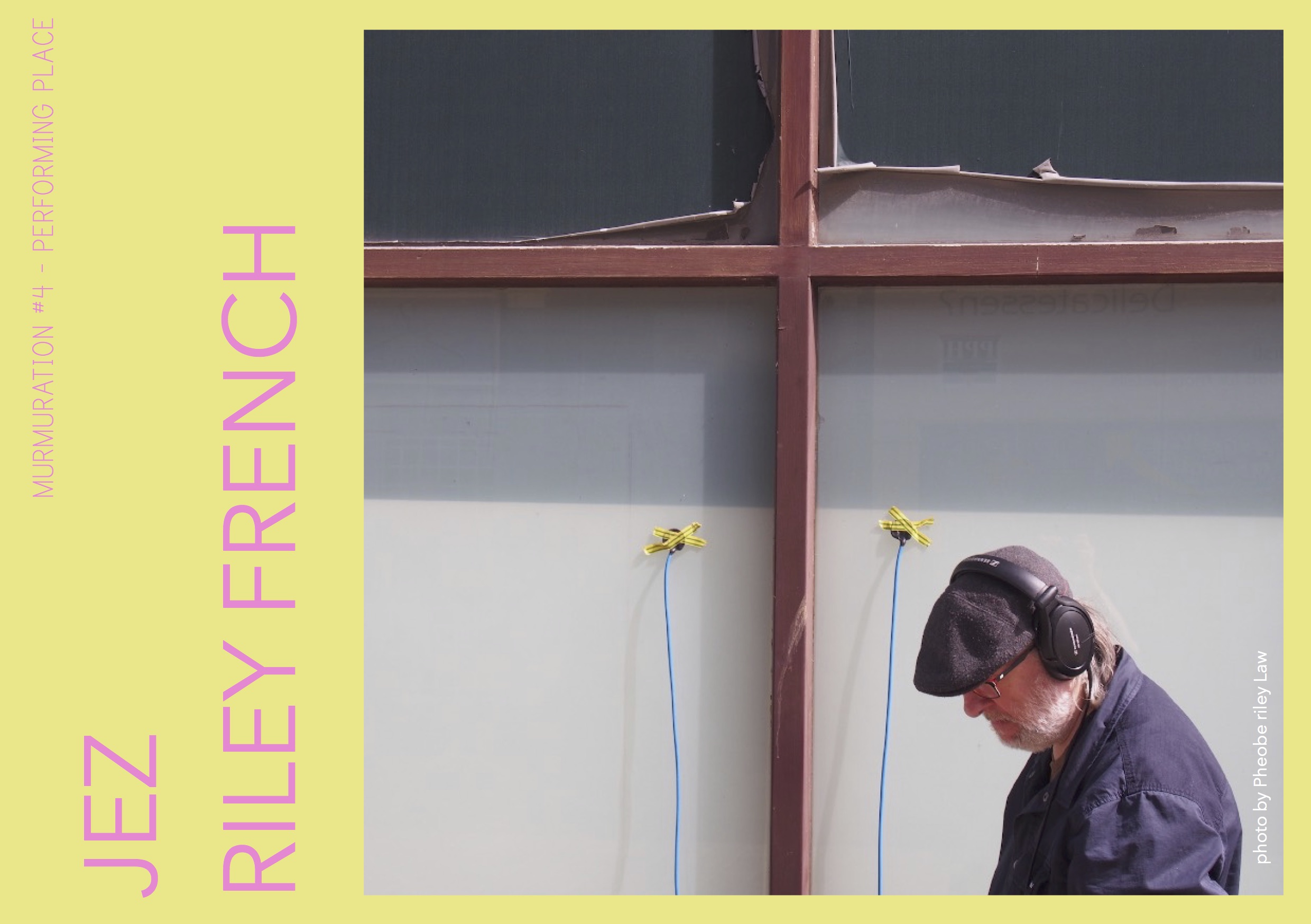 about the artists #2 - Pheobe riley Law
we'll also be joined by Pheobe, to assist on day to day logistics and contribute to our exploration of performing place
Pheobe's work often explores the documentation and transformation of materials including sound, text, fabric, movement, film and reformatted objects. Her interest is in reframing and dismantling narrative, subverting perceived normalities alongside the construction of personal or social behaviours and the inherent patterns of experience. Recent pieces using sound as a key element have been commissioned by / shown at; The Baltic & Hatton Galleries (UK), Spikersuppa Lydgalleri (Oslo), Funen Art Academy Odense (Denmark), Fabrica (Italy), LevelOne Gallery Hamburg (Germany), Paradise Air (Japan), MUSICITY (online), Steklenik (Ljubljana), Detroit Gallery (Stockholm), Ftarri (Tokyo), Fort Process (UK) & for BBC radio 3.
In collaboration with JrF, Pheobe has also co-curated the 'over borders' series of PDF score collections, featuring the work of artists from around the world.
Pheobe is currently a Fabricante at Fabrica Research Centre in Italy.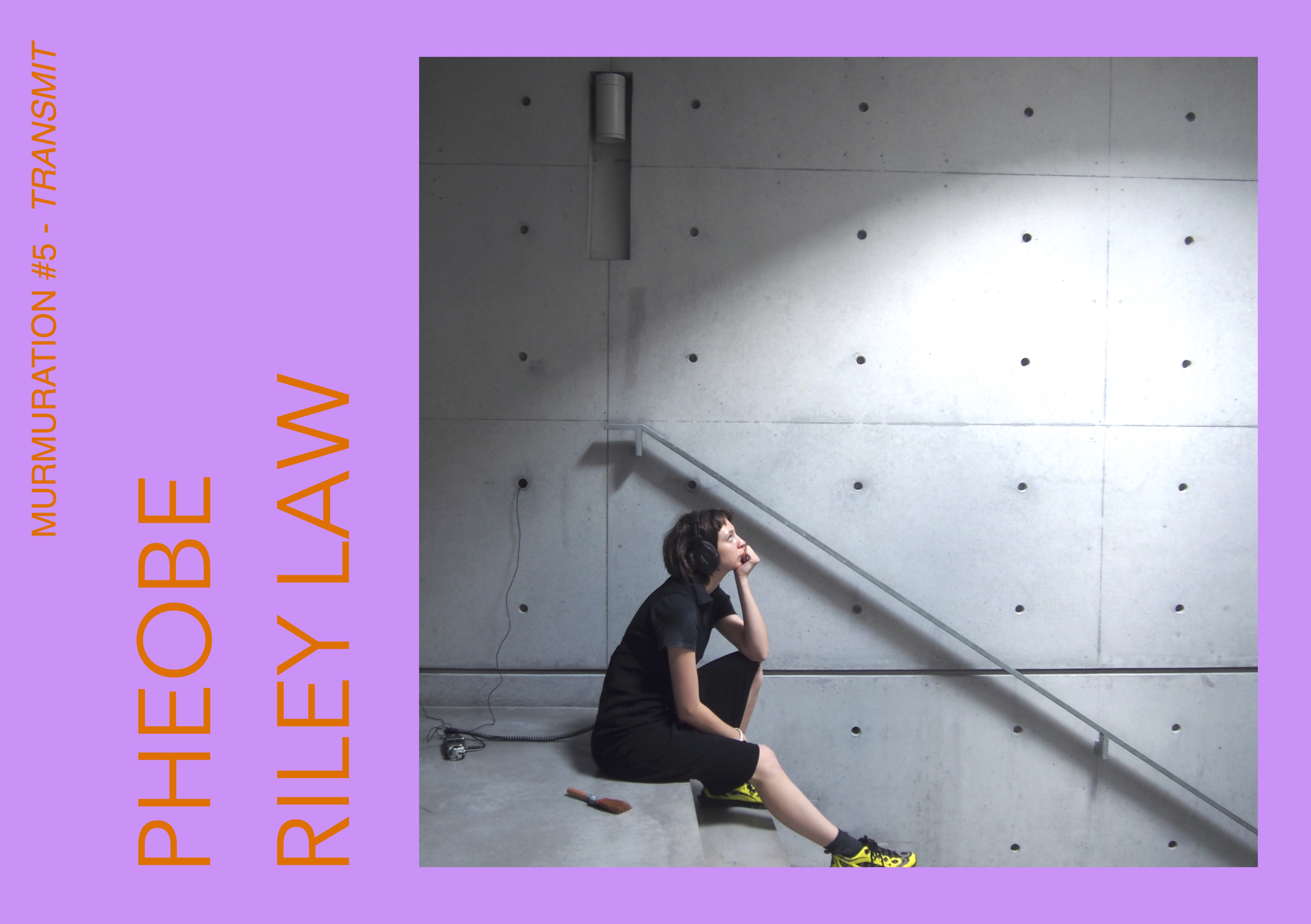 about the artists #3 - Jenny Berger Myhre
Jenny is a multidisciplinary artist working with sound, video and photography. She seeks to remove the expectations of virtuous musical gestures by focusing on the sounds in themselves, and the mental images they produce in us, inspired by listening as a relational act — a way to connect to the world and to other beings. Her music is created with field recordings, fragments of melodies, computer generated sequences, modular synths and lo-fi electronics — resulting in soundscapes with references to both the electro-acoustic tradition as well as experimental pop music.
Jenny's work revolves around personal documentation and archives, intimacy, memory, reality and re-contextualisation. Most of her artistic practice is focused on collaborations. Since the release of her debut album "Lint" in 2017, she has been working extensively with artist Jenny Hval (4AD), both through visual collaborations and performing live in various settings and projects.
Commissions include for Borealis Festival (Bergen), Radiophrenia (Glasgow), OnlyConnect (Oslo), Insomnia (Tromsø) and Skanu Mezs (Riga). She is curating F/eks - a concert series for electronic music and experimental pop in Oslo, and released a new album Here is always somewhere else on Breton Cassette in July 2022.
about the artists #4 - Bethan Kellough
Bethan is a sound artist and composer. She creates installations and musical works that draw upon environmental sound and listening practices. Developing her work through explorations in field recording, spatial design and ambisonic mixing, her approach weaves together musical and environmental sound-worlds - being, in part, influenced by the connections of traditional music with the environments she grew up in. Her debut album, Aven (Touch), was listed in Rolling Stone's "20 Best Avant Albums of 2016" and her work has been exhibited and performed internationally, including as part of freq_wave (USA and online), at Borealis Festival and Ekko Festival (Norway), MMUTH at Ligeti Hall (Austria), 2220 Arts and Archives and Café Zebulon (USA) and Iklectik (UK).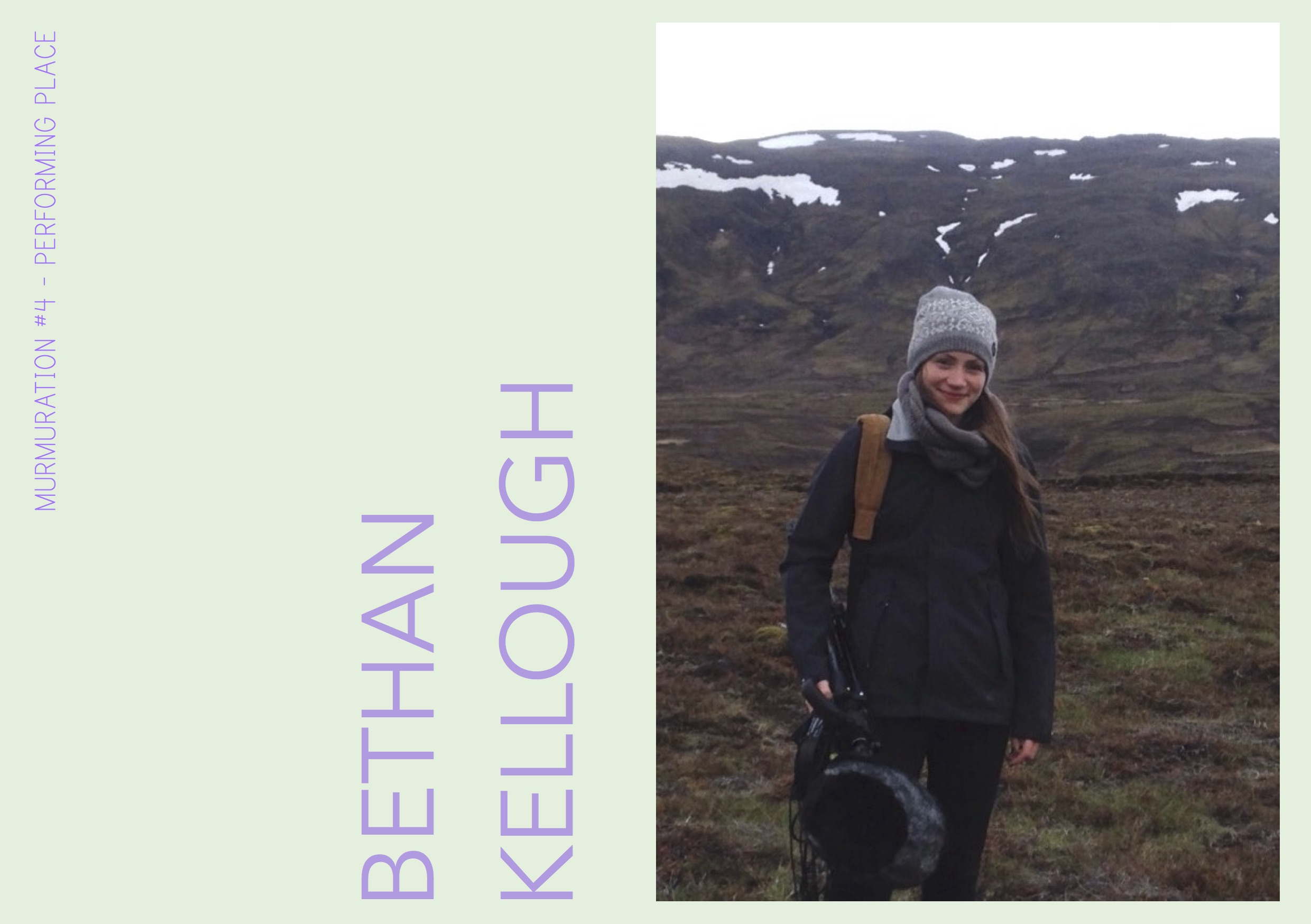 about the artists #5 - Felicity Mangan
Felicity Mangan is an Australian sound artist, composer and educator based in Berlin, Germany since 2008. Felicity plays with the timbres and biorhythmic patterns of her field recording archive to create quasi-bioacoustic music. Felicity has played in collaborative projects Native Instrument (Shelter Press, Entr'acte) presenting electro-acoustic bug beats with vocalist Stine Janvin, & has released Stereo'frog'ic, (Long Form Editions) a sound piece, crafted from found recordings of frogs, insects and other 'vocal' animals wavering about in a stereo field. More recently a tape release titled Creepy Crawly on Slovakian label Mappa Editions and Bell Metal Reeds (One Instrument).
Felicity has presented projects in many different settings from galleries, gardens, clubs, festivals and online platforms throughout Europe, including National Gallery Denmark, Technosphärenklänge CTM/HKW, Sonic Acts Academy, RIVERSSSOUNDS.org and recently sound design for 100 Climate Conversations, Powerhouse Museum, Sydney, Australia. Felicity is currently a freelance Electronic Music Production Tutor at Catalyst Institute for Creative Arts and Technology, Berlin.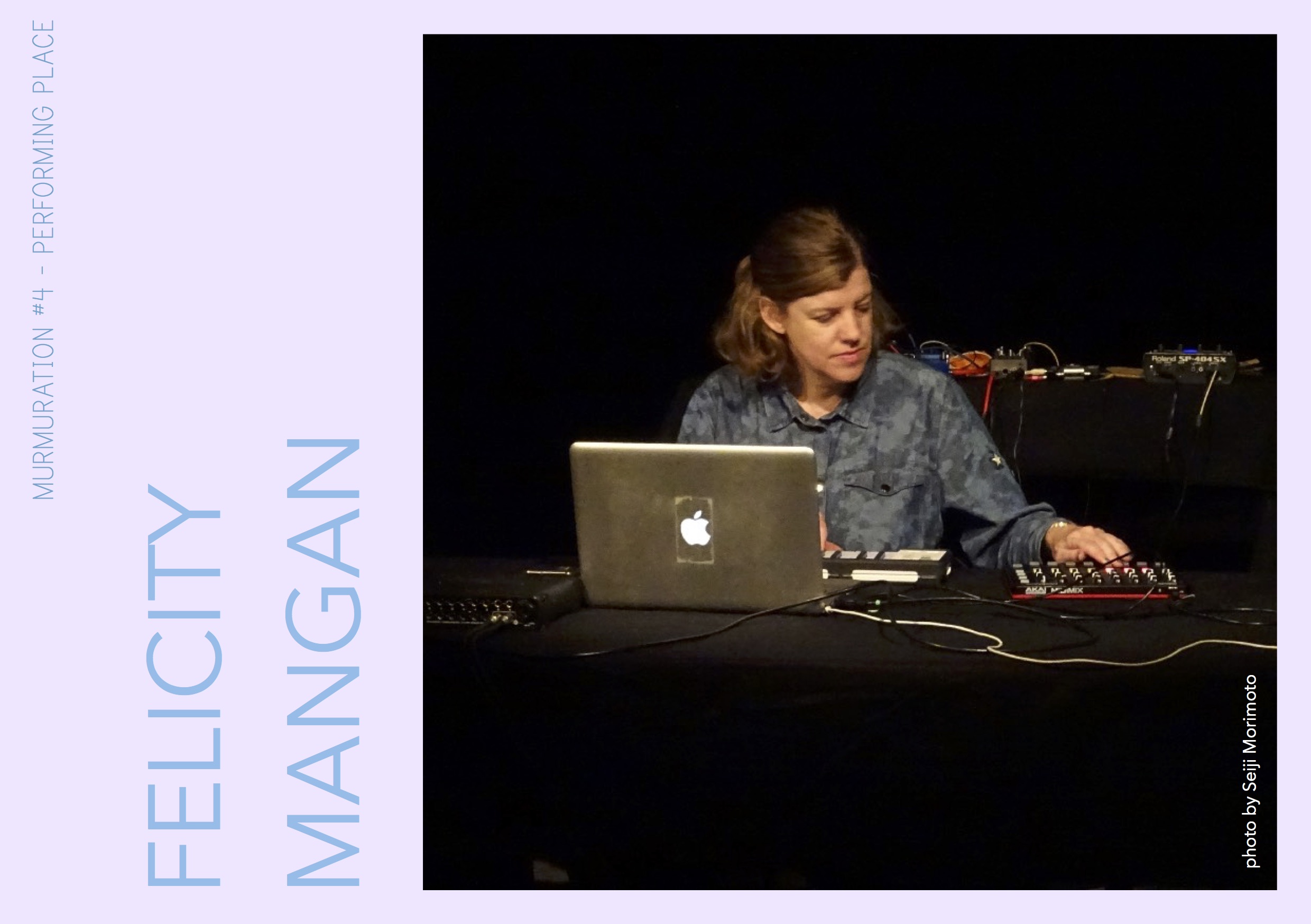 + performance by Cheryl E. Leonard


Cheryl is a San Francisco-based composer, performer, field recordist, and instrument builder whose works investigate natural sites and ecosystems, and human relationships to them. Her projects cultivate stones, wood, water, ice, sand, shells, feathers, and bones as musical instruments, and feature one-of-a-kind sculptural instruments and field recordings from remote locales. She uses microphones and amplification to explore subtle intricacies of sounds, and develops compositions that highlight unique voices and soundscapes while addressing environmental issues such as climate change and extinction of species. Her musical research has taken her to a wide range of wilderness areas, including Antarctica and the Arctic. Leonard's works have been presented in concerts and art exhibitions in the Americas, Europe, Japan, and Australasia. Her recordings are available on Other Minds Records, mappa, SubPop, Public Eyesore, and numerous other labels. Commissions include pieces for Kronos Quartet, San Francisco Museum of Modern Art, and Funsch Dance. In addition to her solo projects, Leonard frequently collaborates with visual artists, choreographers, writers, scientists, and other musicians.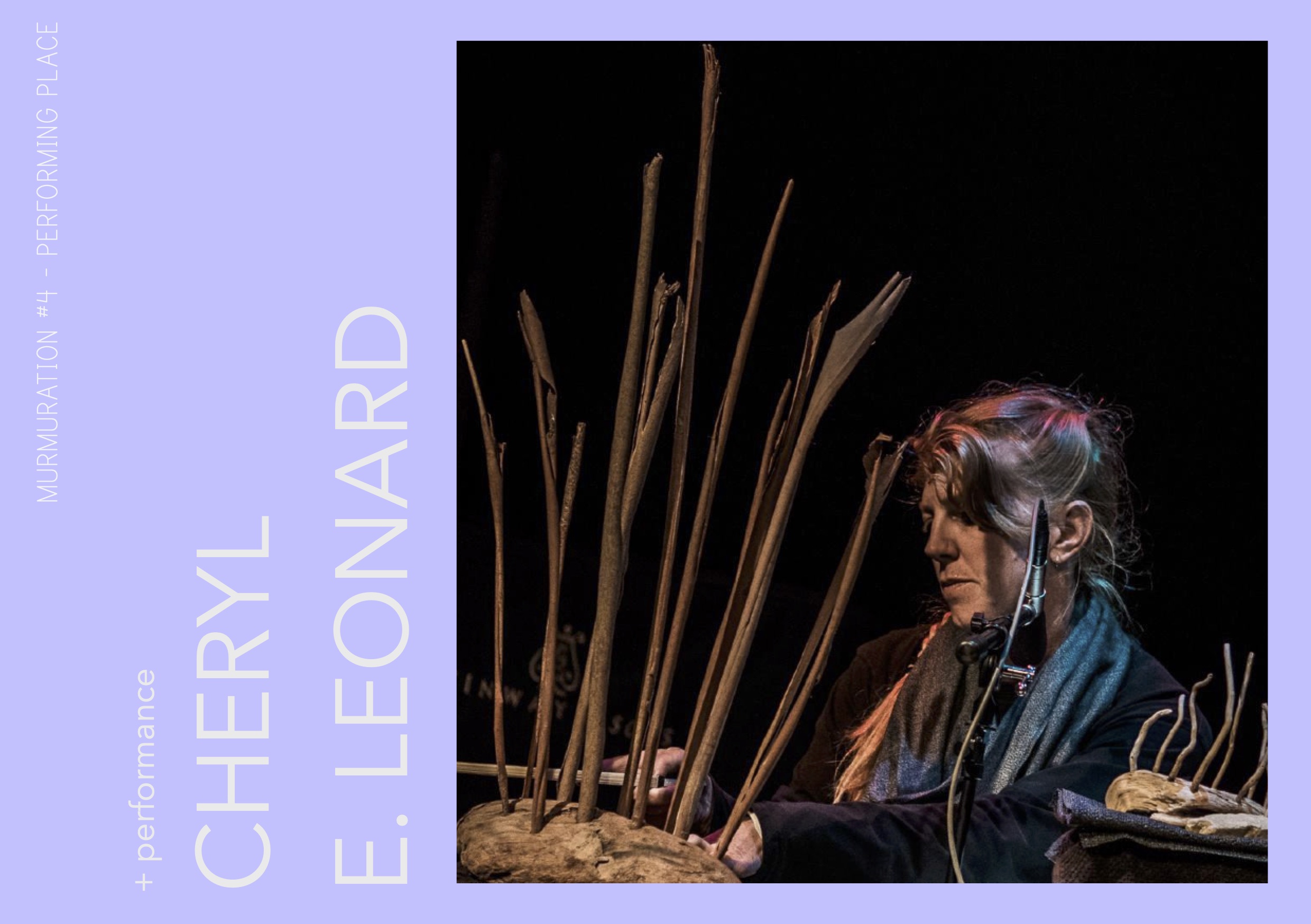 terms & conditions


booking terms & conditions:

you will be required to pay a non-refundable deposit of £100 within 5 days of booking a place, with the balance due by February 10th 2023. In the event that you are no longer able to attend please let us know as soon as possible. If this is after you have paid the full amount you will be refunded minus the deposit & we will then try to find someone to fill your place. If you cancel less than 10 weeks from the start of the trip or don't inform us that you can't attend we will be unable to return your payment unless a replacement can be found as the costs have been carefully calculated per space on the trip. Of course in the event of unforeseen circumstances we will do whatever we can to assist & try to ensure the best outcome for all.
If you are booking a place offered to the waiting list and after February 10th you will be required to pay in full for the place and from then the same t&c's will apply.


cancellation by you:

In the event that you are no longer able to attend please let us know as soon as possible. If this is after you have paid the full amount you will be refunded minus the deposit & we will then try to find someone to fill your place. If you cancel less than 10 weeks from the start of the trip or don't inform us that you can't attend we will be unable to return your payment unless a replacement can be found as the costs have been carefully calculated per space on the trip. We strongly advise that you take out travel insurance.


cancellation by us:

In the unlikely event that we have to cancel the course, or the accommodation themselves cancel it, we will refund you in full minus the deposit. We are not liable for any additional costs incurred such as flights, car hire or purchase of items for the trip so we suggest you book any travel with changeable dates. If the course cannot go ahead for any reason outside of our control (natural disasters, strikes etc) we cannot offer refunds but you should be covered for such eventualities by travel insurance, which we strongly suggest you get before the trip. The ability to run the trip does depend on a certain number of places being booked. In the unlikely event that we have to cancel the trip for that reason the above terms apply.


on location:

Participants are fully responsible for the their own safety on the trip inc. insurance for any equipment you bring with you. The organisers are not responsible for any injury or loss whilst on location. Participants are expected to conduct themselves in a manner which does not infringe on the enjoyment of others on the trip. The cost of any damage to the property itself or any equipment you borrow from the trip leaders or assistants will need to be reimbursed.


Course fees, inc. the deposit are calculated carefully to cover costs and so must be received in full. Therefore any bank transfer or currency exchange fees must be met by those booking places. For UK participants, a bank transfer is the easiest & for those from elsewhere we recommend wise.com as it has better exchange rates and lower fees than other payment platforms. For payment by paypal there will be a charge of between 4-6% (depending on your country of residence) added to the total to cover their fees.


There is an age restriction of 18 for those attending the course.


Participants must be fully vaccinated, including any booster jabs available by the time of the trip.


We are not responsible for any issues with visas for overseas participants. Those coming to the UK from outside of the EU should apply in plenty of time for a tourist visa, not a student visa. We are happy to supply a letter by email confirming your place on the trip if needed.


We will document certain aspects of the trip and reserve the right to share any images on social media. Your consent is assumed unless you inform us during the course that you do not wish to be featured in such images.



We reserve the right to cancel the trip at our discretion (don't worry, this is a standard legally type clause in things like this and doesn't indicate out intention to do so).