April 2021:

15 years supplying JrF microphones to 1000's of other artists, listeners, sound designers, composers.

I'm not that comfortable with self-promotion so I'll quote from others but say that it has been a privilege to see / hear how;

"the microphones, & (your own) work including projects highlighting the work of other artists, have had a significant influence on contemporary field recording, listening & Sound Art practices" (BL)

"If you've seen a film produced in the past decade or so, watched a nature documentary, attended a Sound Art exhibition, a workshop on located sound, watched or listened to experimental music, played a game with good sound design, there's a good chance you've been hearing sounds recorded / transmitted / performed via a JrF contact microphone, hydrophone or electromagnetic coil" (BBC)

I don't shout about them, I tend not to advertise as such, preferring for their reputation to speak, & I don't post lots of 'me with recording equipment' pics on social media. I simply work with these mics myself, along with my daughter, Pheobe riley Law, finding ways to make sure they give excellent results at a fair price. It's about community.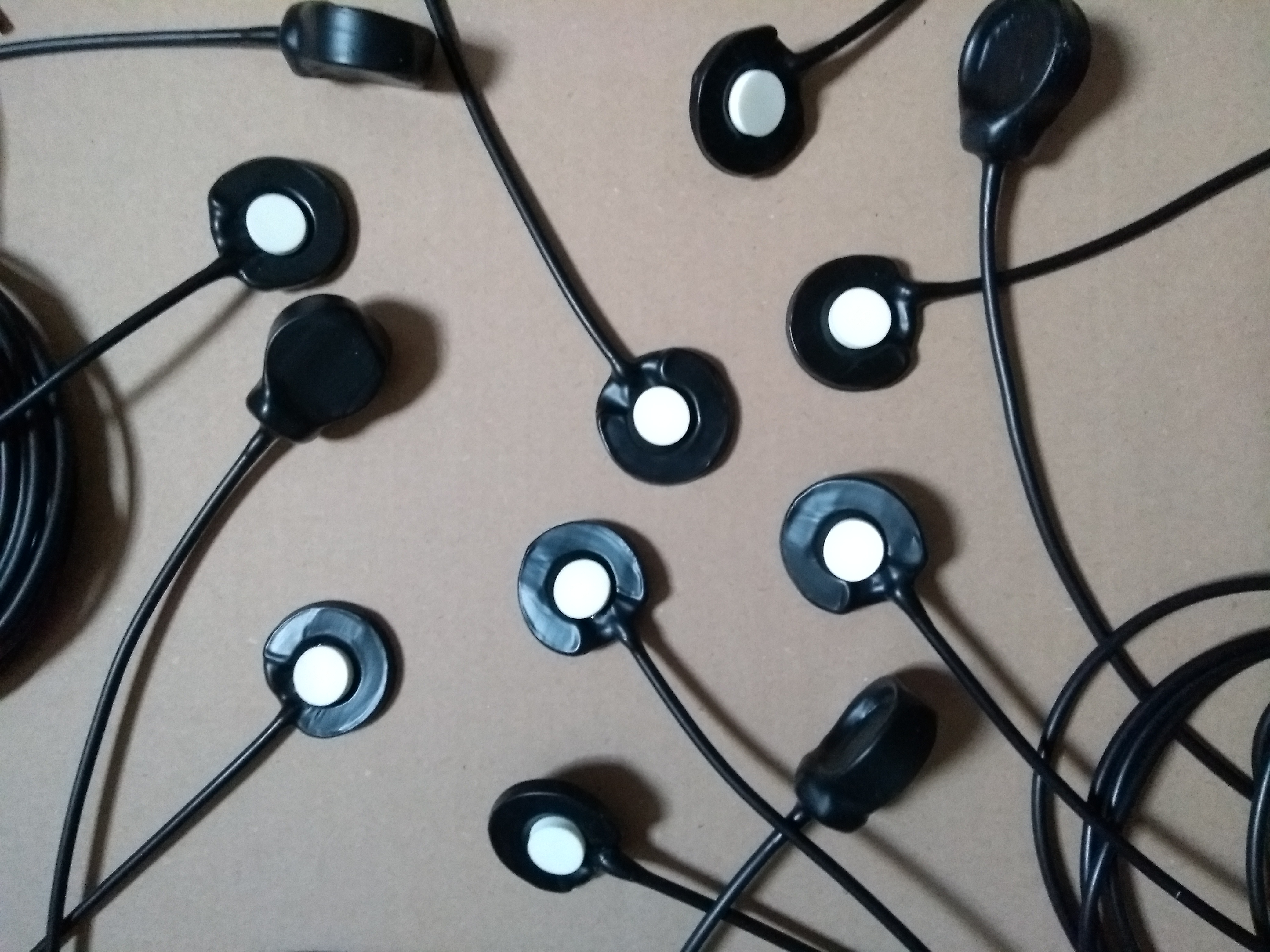 'The Green Planet', the latest David Attenborough series, begins on January 9th here in the UK & features extensive use of JrF c-series contact mics, JrF adapted plant microphones, d-series hydrophones and some of the techniques I have developed for listening to the actual sound of plants (trees, grasses, flowers, funghi, aquatic species etc).
My microphones have been used in most of the Attenborough series over the past decade or so, along with certain approaches to recording that I have shared with some of the sound recordists involved, & I make the mics I design available to anyone who wants to purchase them, working hard to keep the price accessible in the face of increased costs each year and brexit. Like many in the creative sector it is blatantly obvious to me, and always was, that the ability for us to invent, create, contribute to communities across the world was of zero interest to those who wanted brexit because it served their egos, prejudices and their ability to exploit it for their own gain. I probably don't have any brexit supporters amongst my social media contacts but if I did I'd want them to reflect on the constant stress and worry their actions have caused as they enjoy sounds that were previously inaudible, and consider the fact that these microphones are also used widely around the world in projects that are helping with research into the environmental impact of our species. We give, they take. At some point we have to change that and put aside our passivity.
and here's a video of David Attenborough listening to a tree using a JrF c-series contact mic;


JrF contact microphones, hydrophones and coils have been used by thousands of musicians, artists, tv, film and games companies, universities, arts organisations, galleries and wildlife trusts around the world. They and the techniques Jez has expanded or introduced have had a significant effect on all areas of sound culture over the years.

some of those that use JrF mics include:
BBC radio and TV (including the new 'Planet Earth II' series & 'Blue Planet - Ocean' series). I've supplied different members of the BBC sound teams (inc. Chris Watson) with contact microphones and hydrophones for some years now & currently they are being used to record plant sounds for the next Attenborough series, using techniques I advised them on.


Skywalker sound
The Deep submarium
Channel 4 television
Wildfowl and Wetlands trust
The Barbican, London
White Cube gallery, London
Tate Modern
Tate Britain
Pheobe riley Law
BFI (british film institute)
Chris Watson
Sigur Ros
Cecilia Jonsson
Emily Richardson
Alice Eldridge
Ryuichi Sakamoto
Theatre National De Chaillot
Imogen Heap
Bana Haffar
Tarek Atoui
Moma, New York
Sealife centres, UK
Hull school of Art and Design
Sally Ann McIntyre
Sydney College of the Arts,
University of Sydney
ITN
ABC (Australian Broadcasting Company)
Evelyn Glennie
BBC proms
RSPB
New Zealand radio
Leeds Beckett University
Hull University
Cambridge University
Edinburgh University
Glasgow University
Newcastle University
National film and television school
Eliza Bozek
Sherry Ostopovitch
Karen Power
Francisco Lopez
Middlesex University
Cal Arts, USA
Helsinki University
Oxford University
Sheffield Hallam University
University of Surrey
Goldsmiths University
Heriot-Watt University
The National Theatre, UK
DICE (ea games design studio, stockholm)
Studio 24, Pinewood studios
Invisible Dust

Gordon Hempton
Heather Andrews
University college Cork
Queens University, Belfast
Belfast Uni sonic arts research lab
Royal Conservatoire of Scotland
Fordham University, USA
Loughborough University
University of Bath
Whitworth Art Gallery, Manchester

Jana Irmert

Geneva Skeen ("Ableton and my Jez riley French contact mic maintain their position as the top two most important pieces of gear I have" - interview)
Olivia Louvel

Anna Bertmark

Jenny Sunesson

Cicely Irvine
Manja Ristic
Ulrike Sparre
Environmental Research Center, Sohar University, Oman
Quay Brothers
Richard Youngs
Lawrence English
Brandon LaBelle
Bohman Brothers
Lincoln University
Morley College, London
Birmingham University
Nicolas Becker
BJ Nilsen

Simon Scott
ELO
David Blaine
they've also been used on films / tv series /games / theatre shows such as:
The Theory of Everything
Room
The Imitation Game
Gravity
Arrival
Fantastic Beasts
Chernobyl
Sicario
Godzilla
God's own country
Matilda
Harry Potter & the Cursed Child
The book of Mormon
Wicked
The Lion King
The Women in Black
Summer and Smoke
Game of Thrones
The Martian
Blade Runner 2049
Call of Duty
Star Wars (films and games)
Battlefield and 100's more....
(ps. to date I have never received any negative feedback on the quality of the products I make or the service I offer)
'After many months travelling and recording sounds in South America, I am finally back in England and I wanted you to know that your microphones (contact & hydro) have been some of the best companions during my travels. They never let me down and have allowed me to hear and explore worlds I would have never been able to probe otherwise. So, a warm thank you for this!'
'Currently listening to today's d-series hydrophone recordings and I feel like weeping/doing cartwheels. So pristine, the dynamic range, the frequency range, etc. Unbelievable'
'my team just got back from our humpback whales expedition, and the hydrophones you created just made everything easier and more amazing. Hearing the whale songs through the hydrophones itself was a very memorable experience'
'perfect in every way'
'i'm stunned by the quality of these mics'
'these are superb !' (c-cm contact mics)
a member of our studio team recently purchased the Hydrophone D model and a pair of Contact C model microphones from you. We've been absolutely stunned by the quality of the units!
Thank you for creating these amazing microphones at such an affordable price! It was a real blessing that Jari Siili found your website and was able to order them. We look forward to ordering a bunch more microphones from you in the future!
Just let you know your hydrophone is working on a daily basis, and its great. We have had whales singing through our PA systems most days.
Thanks, its great to get some thing that exceeds expectations.
great quality, fast service. thanks.
Jez, your mics have inspired.
Charles Lindsay made a nice recording of a bamboo grove in Costa Rica, which you can hear on the link below, using 2 c-series contact mics & commented: ' I'm really impressed with the frequency range of the mics - thank you again - beyond a worthwhile, great addition to my recording arsenal'
amazed with the frequency range of your c-series contact mics Jez !
thanks Jez. I'm amazed with the sounds i've discovered with your mics already.
Excellent service and product.Thank you
Excellent Product / Good Price / Good Package / Fast Shipping
Thanks, this mic is great! Quick overseas shipping.
very good, very helpful, definitely recommend.
Wonderful hydrophones. Great sound and well made. Fast shipping. Thanks!
Any serious sonic artist should be equipped with at least one of these!
Fantastic service! Looking forward to experimenting. THANK YOU!!
Excellent product.Great quality.Opened up so many opportunities for recording.
Wonderful!! had some amazing results already.
Amazing service, brilliant custom made item, speedy service.
Top Quality & fun to use, buying more. Most helpful supplier. Good advice given.
Works like a dream! Thanks.
The Hydrophone works great, fast delivery. Thanks!
Fantastic item - I've bought 2 now. Thoroughly recommend. A+++++++++++++++++++++
Excellent Item. If you need one of these BUY ONE HERE. Bravo.
Wonderful product and seller, thank you very much.
fast and perfect. Very good seller and excellent communication!
AMAZING seller arrived well before expected and was completely as described.
Microphone works great! Good communication, well packed.
Well made, great contact mic.
Excellent product.
AMAZING seller arrived well before expected and was completely as described.
This hydrophone works great, excellent quality.
excellent service-quality of sound from mic is second to none-great value too.
product will be of great value - highly recommended.
Totally Brilliant.Thanks.
Excellent in every way! Great product!
Excellent product - highly recommended. Thanks for your help with the item also.
Well made mic, good response. Promptly delivered, good comms. 5 stars *****
Great item and very helpful seller, thanks!.
Fast delivery, excellent item as described! Highly recommended seller AAA+++
first class service
Fast delivery, excellent item.
Best I've ever delt with - Thank you - Brillant!
'the best hydrophone on the market for the price without doubt'
'quality sound, design and construction. A+'
'better than the dolphinear hydrophones I have & they cost me over $350 !'
'amazing ! couldn't believe the results I got'
'great value'
'thanks Jez, i'm finding some amazing sounds with these'
'just been to a workshop led by Chris Watson & loads of people thought these were great'
'beautiful microphones. Thanks'
'opens up a whole new world of listening'
'totally the best contact mics i've ever heard'
'your hydrophones are amazing. Thank you'
'I've not used coils before but am amazed by yours. I can't stop walking around listening to electromagnetics'
'Thank you so much for your microphones. They are the best'
'Unbelievable quality for the price. Thanks'
'wow'